WELCOME

IAN DUNCAN MACDONALD'S

- 5 INVESTMENT BOOKS - 3 NOVELS

(all books available at amazon.com)

- 100 INVESTMENT PODCASTS - 4 FREE STOCK SELECTING VIDEOS - FREE STOCK SCORING SOFTWARE - 2,300 PAINTINGS, PHOTOS, IMAGES

Never fear the next stock market crash. You can see how strong dividend stocks pay their dividends through market crashes and recessions as their share prices recover to new record highs.

Ian's latest book

"NEW YORK STOCK EXCHANGE'S 106 BEST HIGH DIVIDEND STOCKS

"

is an evolution in making it easier and faster for anyone to build a safe, financially strong portfolio that can

generate a generous 6% annual dividend income plus a yearly portfolio growth of 12%.

The

scoring matrix

for all 106 stocks is followed by

23 years of historical stock

scores and dividend payouts

in each stocks' 2 page report. Out of 2,800 stocks traded on the NYSE, this is your guide to selecting the best 20 stocks to build your safe, strong portfolio. As well, a summary line for all 106 stocks is repeated and

sorted by stock score, share price, dividend yield and alpha.

This aids in faster stock selections Easy to understand but full explainations of how and why strong stocks should be selected and scored is provided, along with useful financial advice about minimizing expenses and protecting you money from those waiting to take a cut of it.

The

"AMERICAN HIGH DIVIDEND HANDBOOK"

was released in 2021. It provides useful charts on

all 286 common stocks traded on the New York Stock Exchange (NYSE) and the NASDAQ paying dividend yields of 3.5%

or more. A one page report for each stocks displays the details of its financial strength as reflected in the stock's score. Four one line summaries of 286 stocks are sorted by stock score, price, dividend yield and alphabetically. Other useful investment information aids in your search for the best stocks for your portfolio. The

"CANADIAN HIGH DIVIDEND HANDBOOK"

provides the same charts and information but on all

Canadian common stocks traded on the Toronto Stock Exchange (TSX

) paying dividend yields of 3.5% or more.

No longer will you be buying stocks based on market hype, rumors or questionable investment advisor promotions. You will understand what you bought and why you bought it.

In his 2020 book

,

"SAFER BETTER DIVIDEND INVESTING

"

, Ian provides lists of all

628 U.S. and 199 Canadian common and preferred stocks paying dividend yields of 6% or more

. All stocks are scored for financial strength and then listed four ways for fast selection (1) alphabetically (2) descending stock score (3) descending share price (4) descending dividend yield percent. The book also contains answers to

128 investment questions

, such as, "Do you see Tesla as an overpriced stock?" and "Why do so many investors not trust investment advisors?" The 2019 book,

"INCOME AND WEALTH FROM SELF-DIRECTED INVESTING"

was Ian's first investment book. It is a report on how an 80-year-old widow's

investment advisor employed by a major bank sqandered $300,000

of her life savings. This caused her to fear being left penniless in a few years. Ian reports how that the advisor was making more trades in a month than Ian would make in 10 years. Her portfolio was shrinking because it was stuffed with mutual funds, preferred shares and loan notes with zero chance for capital gain. The meagre income she had been reciving was from the selling of her assets. Ian details how he taught Miss Innocence how to buy financially strong, high dividend stocks. She has not only

recovered her $300,000 but doubled her income while removing $20,000 in annual advisor frees

. She pushed Ian to write an investment book about her investment enlightenment.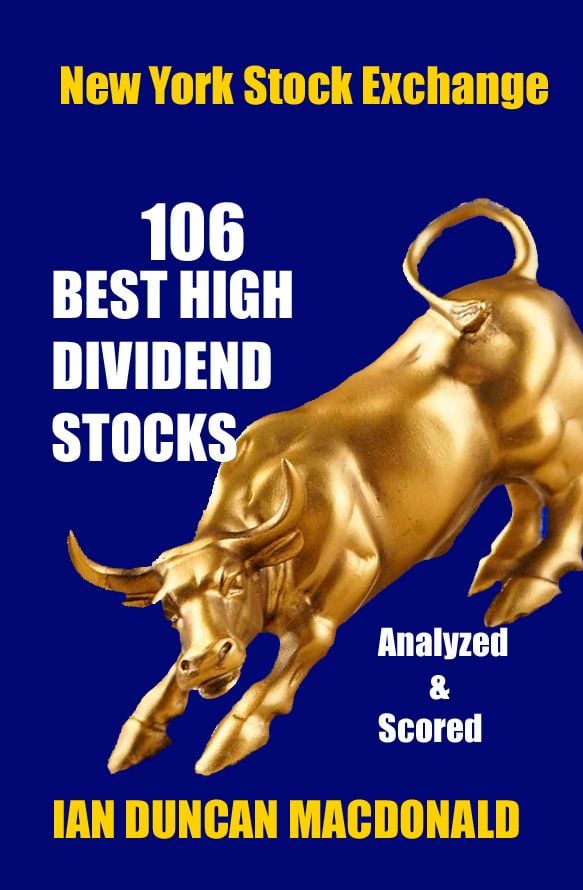 COMMENTS FROM READERS
"I've completed my research and chosen
20 companies, with an average score of 64.
Now I'm going about allocating the purchases between my three IRA and one non-IRA account. I'm pretty happy with the companies I've chosen,
your books have been invaluable....
I think it's essential for
anyone researching these kinds of stocks to use both your "American High Dividend Handbook" and your "Canadian High Dividend Handbook" to get a full picture of what's available
.
.
..I've been at the same location since 1985 and am selling my practice to another dentist who works with me. I will remain as his associate.
I appreciate having your book as a guide since I'm planning on investing the proceeds from the sale of my practice in order to live off the dividends.
- Thanks again for your making your knowledge and resources available
and for being willing to help with answering my questions. I really appreciate it. SEE THE COMMENTS AVAILABLE IN THE AMAZON WEBSITE
FOR PODCASTS GO TO
https://podcast.apple.com/ca/podcast/safe-dividend-investing/id1558028704
Podcasts will exceed 100 in February of 2023. They run between 15 minutes and an hour in length. - A new podcast is available every Thursday. They usually consist of responses to interesting questions posed to Ian by investors
STOCK SCORING
Above is the data entry screen for the stock scoring software that is supplied free, on request, to those who purchase Ian's investment books.
The information you enter into the data windows of this program is available from either the financial institution where you buy your stocks or from public sites like
Yahoo Finance
. In the books, Ian explains where to find the data to be input and why each of the 9 elements you enter are important to calculating the score of any stock in any stock exchange. Thousands, of investors have used the software successfully on every possible operating system. Scoring a stock brings it alive. You are now able to sort scored stocks from most to least desirable. Their strengths and weaknesses are displayed and measured. Notice how the
eleven subscores all add up to the "Overall Rating" score of "73"
in this example. A perfect score would be 100. The highest score I have ever seen was an 78. The lowest score was a 4 . Ian avoids adding stocks to his portfolio that score less than 50. Judgment is still required in choosing the stocks for your portfolio. At least initially, you want to restrict your stock purchases to twenty financially strong stocks of equal value paying the highest dividend you can find. Unfortunately the highest scores are often attached to stocks paying low dividends and the highest dividend yields are often attached to stocks that are financially weak. There is always an element of judgment and compromise as you build a portfolio that will give you a dividend yield of 6% or more, plus give you a capital gain of 12%.
SCORES CHANGE. IT IS WISE TO RESCORE ANY STOCK JUST BEFORE PURCHASING IT
.
The software is ordered
by sending an e-mail to
imacd@informus.ca.
Upon receiving your email, the software will be attached and returned to you. Sometimes, e-mail go astray
.
If you have not received your software within 24 hours phone (New York) 929-800-2397 or (Toronto) 416-245-4994.
Be sure to mention in your email request which book you have purchsed. Ian is also curious as to where you are located.
In writing his books, Ian calls upon his experience as a Vice President at Equifax, a Senior Vice President at Creditel, a President at Intercontinental Collections, General Manager at Screening Systems International and General Sales Manager at Dun & Bradtreet. He has managed operations with hundreds of employees; been a top salesman and salesmanager; took an operation that was losing a million dollars a year to annual profits approaching 10 million dollars; built a commercial risk scoring system that is still used daily by thousands of risk managers, analyzed thousands of businesses for risk; ran the largest commercial collection operation in the country; screened hundreds of senior executive job applicants; established an international risk information exchange system; and merged the operations of two large corporations. Since 2005, Ian has been president of
Informus Inc.
It markets his books, art and consulting services. Investing and writing have been his passion since 2000. He is a graduate of McMaster University. On his first day on that campus he met his wife. Their three children and two grandchildren live close to them in Toronto.
CONTACT
you can email Ian at
imacd@informus.ca
or by telephone (New York number)
929-800-2397
or ( Toronto number)
416-245-4994
or at
: INFORMUS INC 2 Vista Humber Drive Toronto, Ontario Canada, M9P 3R7
A New Mexico, capitalist sect recruits gifted, abandoned street children (often thieves and beggars) from around the world. They educate and shape them into wealthy entrepreneurs whose loyalty is to the sect that saved them from poverty and early death. The sect receives a portion of their wealth for the rest of their life. As ruthless capitalists, would these recruits hesitate in murdering a rich socialite if her death could save thousands of abandoned children? Can murder ever be justified? John Cross is one of these abandoned childred who was saved. He is a driven man who will let nothing stand in his way of achieving great wealth. Anyone who dares cross him can end up dead. The story opens in Paris where John is on a mission to recruit street children just as he was recruited. He returns "home" to New Mexico, one step ahead of the Paris police, to begin his quest for wealth. Soon, he is once again on the run. Staying a step ahead of the FBI and the mob who are in hot pursuit. We follow him across America to Delaware. Will the sect be able to move their top producer to a safe haven. This action book with all its twists and turns is a hard one to put down. Like all Ian's books it is available at Amazon/Kindle as an e-book or print book.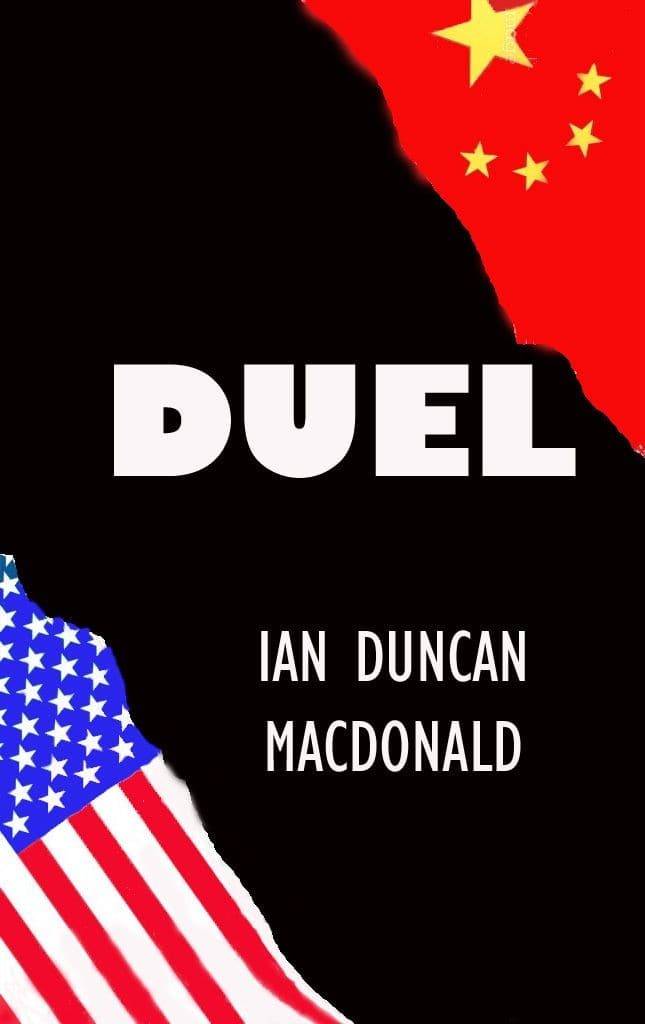 The Caribbean has always been the United State's private lake. Foreign nations have steered clear of it for more than a hundred years. The People's Republic of China have become very active in the "Caribbean. The United States is no longer concerned about Caribbean nations embracing communism. They have largely ignored the Caribbean while the Chinese have filled the void of US foreign aid by becoming very active in providing health and infastructure benefits to these nations. All hell breaks loose when the Chinese decide to establish a permanent presence in the Caribbean by leasing a long abandoned British naval base on the island nation of St. Matts. The junior senator from Texas sees this threat on its doorstop as a direct attack on the United States and calls for massive retaliation, The State Department sends Rob Lyons to the island to assess the threat. This is done over the objection of the CIA who see it as interference in their intelligence gathering mandate. Assination, romance and monkeys make for an interesting provocative read. This book like all Ian's books are available at Amazon/Kindle as e-books or print books.
An ever diminishing fresh water supply in the US South West could destroy the economies of California, Nevada, New Mexico and Arizona. It is an election year. The President wants the votes in those four states. Most of the rainfall in North America falls in Canada. A friendly neighbor with a small population - about the size of California with a very small militry force. Could the United States solve its South West water problem by redirecting Canadian water that now flows North through empty, barren land to the Artic Ocean, South to where it is needed by 80,000,000 Americans? China has built canals thousands of miles long to solve a similar problem. The State Department sends Rob Lyons to Canada to see what it would take to for the separtists provinces in Western Canada and Quebec to step aside and lt the w US "expand" into the Ontario. This would give the US control of the Great Lakes and an immense watershed.. This is a thought provoking, action novel that is disturbing in its posibilities. It is available as an e-book or print book at Amazone Kindle.
INVESTMENT INFORMATION VIDEOS
To avoid the challenges Ian encountered when he first started investing, it is important
to him that every new investor understand why self-directed investing, in 20 common stocks of financially strong, dividend paying companies is the safest and most rewarding investment they can make. For those who do not read investment books, he created and placed
four ten minute video lessons on YouTube.ca
for everyone to freely access and gain at least some basic insight into safe investing in financially strong stocks, paying high dividends
To access the 4 lessons go to
youtube.com
enter into their
"intitle
" seach box one of the following video titles ( a Google search with these titles and
Ian Duncan MacDonald
should also bring them up:
FIRST LESSONS IN DIVIDEND INVESTING
Income and Wealth from Self-Directed Investing - Lesson 2 Income and Wealth from Self-Directed Investing - Lesson 3 Income and Wealth from Self-Directed Investing - Lesson 4
******

ART ******

2,300 of Ian MacDonald's

paintings, photographs, and digital art

are available for your viewing at the

Fine Art America

website.

Click on the following link

to be taken to his gallery where the images are sorted by topics:

Most Popular

,

Blue Abstracts

, Toronto

,

Berlin

,

Bermuda

,

Philadelphia

,

Sunsets

,

Seascapes

,

Fall Colors,

Istanbul

,

Vienna

,

Flowers

,

etc

.

https://fineartamerica.com/featured/toronto-city-hall-ian-macdonald.html

Excellent quality reproductions are available for quick delivery at competitive prices in a multitude of formats.

Delivery is Quick and Satisfaction is Guaranteed

Following are a few popular images
WAVE SEARCH

(8,036 views)

https://fineartamerica.com/featured/wave-search-ian-macdonald.html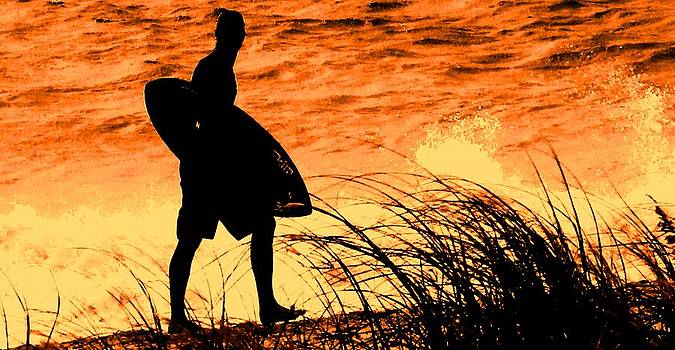 THIS BEACH BELONGS TO ME

(7,149 views)

https://fineartamerica.com/featured/this-beach-belongs-to-me-ian-macdonald.html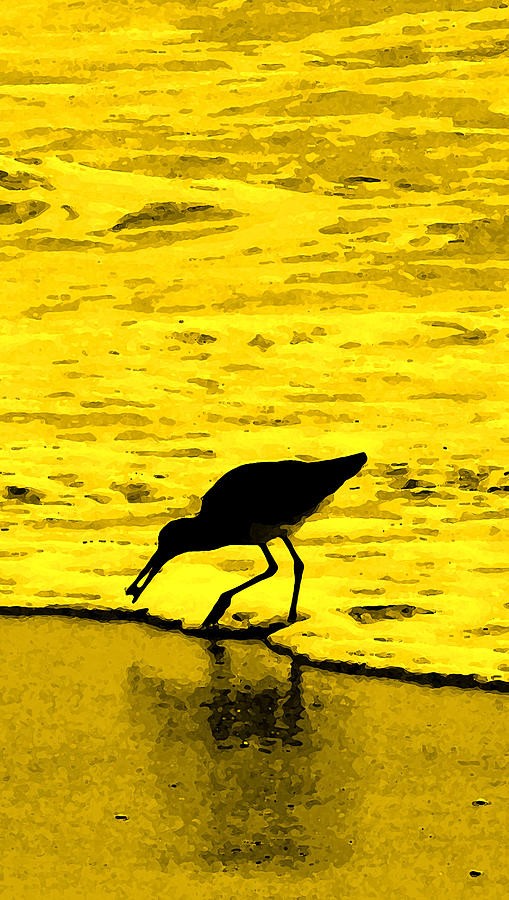 VICIOUS HOCKEY PLAYER

(4,925 views)

https://fineartamerica.com/featured/vicious-hockey-player-ian-macdonald.htm

l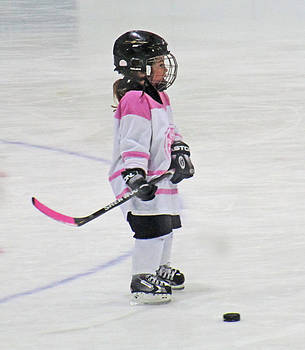 FRONT AND CHURCH

(3,862 views)

https://fineartamerica.com/featured/front-and-church-ian-macdonald.html
IN BALANCE (2,518 views)

https://fineartamerica.com/featured/in-balance-ian-macdonald.html
GO FLY A KITE (3,118 VIEWS)

https://fineartamerica.com/featured/go-fly-a-kite-ian-macdonald.html
TORONTO HARBOUR EAST GAP (1,826 views)

https://fineartamerica.com/featured/toronto-harbor-east-gap-ian-macdonald.htm

l